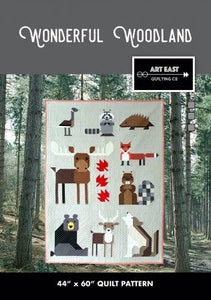 Wonderful Woodland - Art East Quilting Co.
The Wonderful Woodland quilt has a variety of woodland creatures.  Make them all for a 44" X 60" finished quilt.  No room for wall hangings - make any of the 9 individual blocks for pillows, tote bags or wall hangings.   The pattern is pieced using the stitch n flip method, no applique.  
AEQCWW-920, WONDERFUL WOODLAND, Art East Quilting Co.