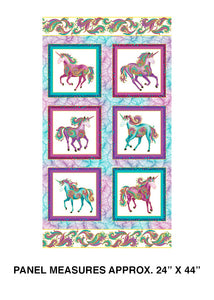 Benartex - Believe in Unicorns - Unicorn Panel -White Multi Colors - Ann Lauer
Brightly colored unicorns prance in the blocks of this panel.  Use whole as a wonderful center for a panel pattern or cut the blocks apart to use as the centerpiece of individual blocks.  Enhanced with metallic thread the unicorns are bright and cheerful.  Panel measures 24" X 44".
Banartex 10390M-09, Unicorn Panel, Ann Lauer,  Benartex
100% cotton, 42" - 45" width
Sold per panel.