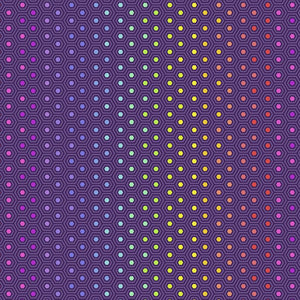 Tula Pink - True Colors - Hexy Rainbow - Free Spirit Fabrics
The Hexy Rainbow collection by Tula Pink features a hexagonal shape that repeats to create an unusual and unique repeating pattern.  The Starling colorway has a multitude of colorful hexagons inside the outer hexagon shapes all on a bright purple background.  This is both lovely and different to use as a bright background or anywhere a pop of colors is desired.
PWTP151 STARLING, Hexy Rainbow, Tula Pink, Free Spirit Fabrics, 42'-45" Width, 100% Cotton
Fabric is sold in 1 yard increments, 2 or more yards will be continuous yardage.