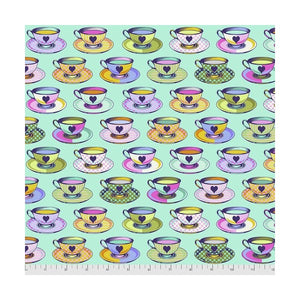 Tula Pink - Curiouser & Curiouser - Tea Time - from Free Spirit Fabrics
Tea Time in the Daydream colorway features a multitude of tea cups and saucers in a variety of colors and patterns all on a light teal blue/green background.   The wide variety of colors featured is typical Tula colors with lights and brights.
PWTP163DAYDREAM, Tea Time, Curiouser & Curiouser, Tula Pink, Free Spirit Fabrics
100% cotton, 42" - 45" width
Fabric is sold in 1 yard increments, 2 or more yards will be continuous yardage.