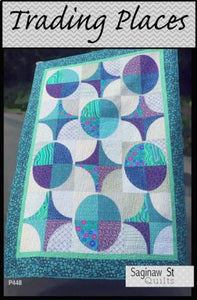 Trading Places - Karla Alexander - Saginaw Street Quilt Co.
A 55" X 81" finished quilt made using the Creative Grids Ovals All Ways Ruler, CGRKAOVAL, sold separately.  The easy curves for the large ovals are easy to sew with awesome results.  The pattern includes requirements for purchased yardage or stash busting requirements.
P448 TRADING PLACES, Saginaw Street Quilt Co.