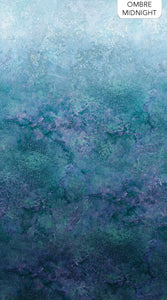 Stonehenge Ombre Midnight - Northcott
The Midnight Ombre shades from a light blue to a beautiful dark midnight blue.  Ombres are a great selection for a variety of patterns.  They provide a variety of shades with one fabric.  
100% Cotton - 42/45 inch width
DP39420-47 STONEHENGE GRADATIONS OMBRE MIDNIGHT- Northcott Fabrics
Fabric is sold in 1 yard increments, 2 or more yards will be continuous yardage.