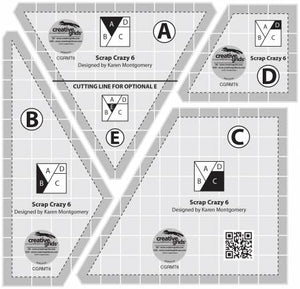 Creative Grids - Scrap Crazy 6 Templates
The "Scrap Crazy 6 Template" is a set of 4 templates that can be used to create a variety of projects.  A great way to use up odd sizes of leftover fabric.  Or stack fabrics to creat multilple pieces.  The set comes with fully illustrated step by step instructions or scan the QR code printed on the template for a video demonstration.  Purchase includes a free CLP pattern for the Scrap Crazy 6 Templates.
All Creative Grids products have the exclusive gripper system.  The template slides easily until pressure is applied then the gripper system keeps the template from slipping.
CGRMT6, Scrap Crazy 6 Templates, Karen Montgomery, Creative Grids