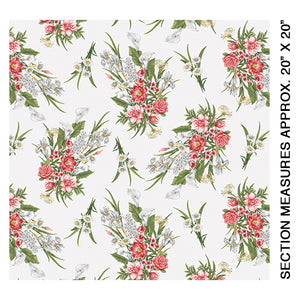 Magnificent Blooms -Medium Bouquet Light - from Benartex
The Magnificent Blooms Bouquet is a magnificent collection of pink and white flowers.  The whitest of white flowers and pinks that range from the palest of pink to an almost red tone, with vivid green leaves all on a lovely light background.  So bright and beautiful they can be displayed all year long, a sure way to chase away the winter blues while waiting for spring.
Benartex 6788-13, 100% cotton, 42" - 45' width
Fabric is sold in 1 yard increments, 2 or more yards will be continuous yardage.