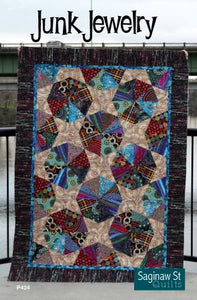 Junk Jewelry - Karla Alexander - Saginaw Street Quilt Co.
This is a stash friendly quilt or purchased fabric requirements are included.  The cutting instructions list the total number of strips required for the spider webs allowing you to add or remove fabric as needed or desired.  You can begin with strips from 3" to 10" this will increase or decrease the overall project size and change the fabric requirements.  The suggested ruler is the Creative Grids Spider Web CGRKA6, sold separately.  It is not essential but will give you the perfect cut every time and the option to choose block sizes.
P424 JUNK JEWELRY, Saginaw Street Quilt Co.