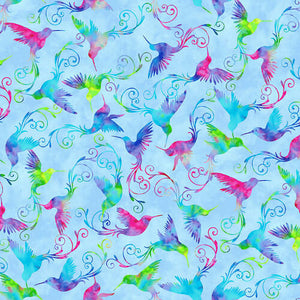 Studio e - Hummingbird Heaven - Sky Blue Hummingbird Swirl - Elizabeth Isles
Brightly colored hummingbids darting across a sky blue background.  A bright and cheerful addition to any product.
Studio e 5780-17, Hummingbird Heaven Sky, Sky blue Hummingbird Swirl, Elizabeth Isles, Studio e Fabrics.
100% cotton, 42" - 45" width
Fabric is sold in 1 yard increments, 2 or more yards will be continuous yardage.