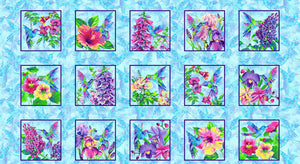 Studio e - Hummingbird Heaven - Bird and Flower Blocks - Elizabeth Isles
The blocks feature a hummingbird sipping the nectar from a variety of flowers.  Use the blocks as a large focal point or as several small features.  The blocks are lovely used as singles or multiples.
Studio e, 5777-17. Hummingbird Heaven Sky,  Sky Blue Bird and Flower Blocks, Elizabeth Isles
100% Cotton, 42" - 45" width
Fabric is sold in 1 yard incrememts. 2 or more yards will be continuous yardage.