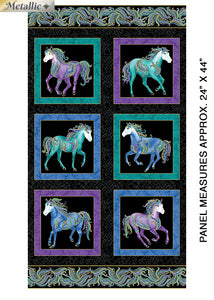 Benartex - Horsen Around Panel, Black Multi - Ann Lauer
A bright panel of turquoise and magenta horses, enhanced with metallic, the horses pop off the black background.  Use the panel as the center piece of a panel or medallion pattern or cut apart to use as the center pieces as blocks.
Benartex, 6850M-12, Horsen Aroun Panel 24" X WOF, Ann Lauer, Benartex
100% cotton, 42" - 45" width
Sold per panel.