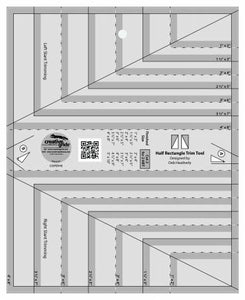 Half Rectangle Trim Tool - Deb Heatherly - Creative Grids
With the Creative Grids Half Rectangle Trim Tool you can make half rectangles in seven different sizes with either a right or left slanted seam.  The cutting chart is printed on the tool plus trim lines for perfect half rectangle units every time.  Since half rectangles have a different angle than 1/2 square triangles an extra indent is added to the final trimming to have perfect seams every time.  Comes with complete printed instructions or scan the QR code for a how to video.  All Creative Grids tool have the exclusive nonslip feature that allows the user to move the tool over the fabric until pressure is applied then the exclusive grip system holds the tool in place to avoid miscuts.
CGRDH6 - HALF RECTANGLE TRIM TOOL -  Deb Heatherly - Creative Grids.