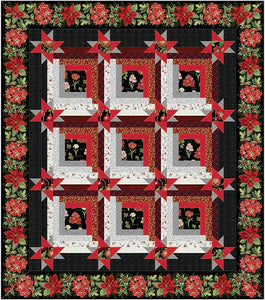 Good Tidings Queen kit - Jackie Robinson, Animas Quilts - Benartex Fabrics
The Good Tidings Queen size kit.  A simply gorgeous winter quilt pattern.  Make it now for the holiday seasons.  The kit is for a Queen sized quilt and finishes at 92" X 108".  The kit includes all "A Botanical Season" fabrics for the top and binding.  A 108" wave texture backing is available to order separately.  The pattern and fabric are designed by Jackie Robinson of Animas Quilts and the fabric is manufactured by Benartex Fabrics.  Shown in Lap size, twin, queen or king will be more blocks wide and long then shown in picture.
The Queen size kit ships free.  Information for King size is available upon request.
AQP-291 - GOOD TIDINGS QUEEN- Jackie Robinson, Animas Quilts, Benartex Fabrics