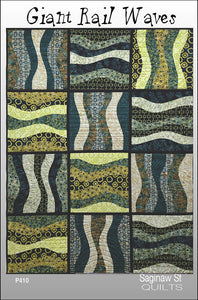 Giant Rail Wave - Karla Alexander - Saginaw Street Quilt Co.
The giant blocks in this quilt are fun to make with the long gentle curves.  Instructions include cutting the curves freehand or using a specialty ruler.  Make the cuts as curvy as you like or make them straight.  Your choice.  Each square is equivalent to one completed block.  If you want more blocks start with more squares but use a good mix of dark and light fabrics.  Finished block 16" X 16", finished quilt 49 1/2" X 66 1/2".
P410 GIANT RAIL WAVES, Saginaw Street Quilt Co.