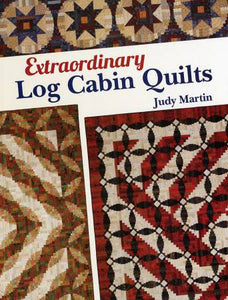 Extraordinary Log Cabin Quilts - Judy Martin - Crosley-Griffith Publishing Co.
A book of 15 complete patterns for extraordinary log cabin quilts in multiple sizes.  A large variety of color photos, for inspiration and instruction.  So many great pattern idea and lots of information from selecting fabrics, cutting and stitching through quilting and binding.  a wonderful book for all log cabing lovers of any level.
JM152 EXTRAORDINARY LOG CABIN QUILTS - Judy Martin, Crosley-Griffiths Publishing Co.