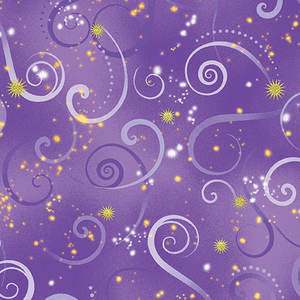 Benartex - Dragon Fly Dance Swirling Sky in Medium Purple
Swirling Sky by Contempo division of Benartex Fabrics.  A medium purple with gold metallic highlights.  The collection was featured in Love of Quilting 6 part series "Dancing Dreams"  November/December 2019 thru September/October 2020 issues. Lovely purples with a sparkle of gold metallic.

Benartex Contempo - 8500M-60, 100% cotton 42" - 45" width
Fabric is sold in 1 yard increments, 2 or more yards will be continuous yardage.