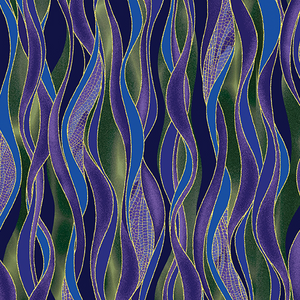 Benartex - Dragon Fly Dance Dancing Waves
Dancing Waves in greens and purples enhanced by gold metallic. from the Dragon Fly Dance collection from Contempo, a division of Benartex Fabrics.  Fabric was featured in the Love of Quilting series "Dancing Dragonflies" 

Benartex Contempo 8503M-60, 100% cotton 42" - 45" width
Fabric is sold in 1 yard increments, 2 or more yards will be continuous yardage.