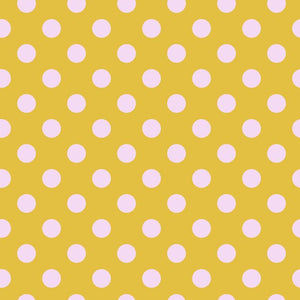 Tula Pink - Pom Poms in Marigold - Free Spirit Fabrics
Bright and bold.  White polka dots on a yellow background.  This would be a nice and unusual blender, a great background or stand alone accent piece.  
PWTP118-MARIG, Tula Pink Pom Poms, Free Spirit Fabrics
100% cotton, 42" - 45" width, 
Fabric is sold in 1 yard increments, 2 or more yards will be continuous yardage.