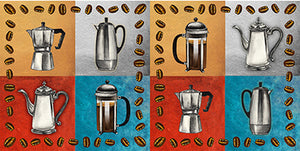 Blank Quilting - Brewed Awakenings - Gray Coffee Pots
Small panels of various types of coffee makers on a variety of background colors.  Cut this into small as the center focal point of a block or leave the piece whole for a fun table topper, runner or other kitchen related item.
Blank Quilting 9824-90, 100% cotton, 42' - 45" width
Fabric is sold in 1 yard increments, 2 or more yards will be continuous yardage.