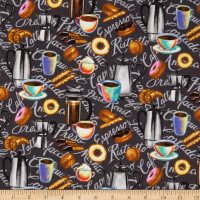 Blank Quilting - Brewed Awakenings - Gray Coffee Motifs
A coffee lovers delight,  Various types of coffee and many yummy foods to accompany them are shown on this fabric.  Great for a coffee lovers napkins, mug rugs, table runners, tots and more.  No limit to the fun projects that could be made for a coffee lover using this fun fabric.
Blank Quilting 9828-90, 100% cotton, 42" - 45" width
Fabric is sold in 1 yard increments, 2 or more yards will be continuous yardage.