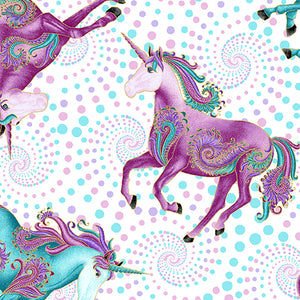 Benartex - Believe in Unicorns - Unicorns All Over - Ann Lauer
This fun fabric features Unicorns in shades of bright and colorful magenta and turquoise, enhanced by gold metallic, on a white background.  The background is further enhanced by varied colors of spirals.  Such a happy and cheerful design.  Designed by Ann Lauer for Benartex.
10391M-02, All Over Unicorns,  Ann Lauer, Benartex,
100% cotton, 42" - 45" width
Fabric is sold in 1 yard increments, 2 or more yards will be continuous yardage.