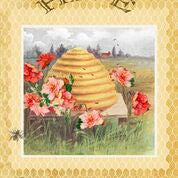 Studio e Fabrics - Bee Sweet Panel
Beehive panel ready to use as is or incorporate into a panel pattern.   With the bright colors this panel would work nicely for a 1 Block Wonder Panel. 

Studio e E-5121P-44, 100% cotton 42" - 45" width
Panel is 24" by width of fabric and is sold by the panel.