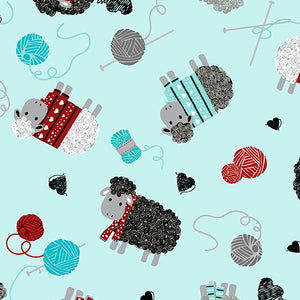 All You Knit is Love - Love Ewe Aqua - Benartex Fabrics
Knitters of all ages will fall in love with these adorable sheep.  The fabric features adorable sheep wearing knitted items, the yarn and other knitting items in various colors all on a aqua background.  Fabric designed by Kanvas Studios for Benartex Fabrics.
100% Cotton - 43"-45" Width
9926-09 LOVE EWE AQUA - Kanvas Studios - Benartex Fabrics
Fabric is sold in1 yard increments, 2 or more yards will be continuous yardage.